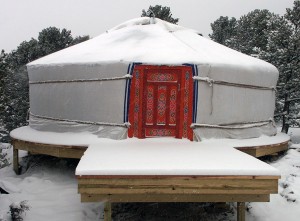 Hand-built in Mongolia: horse- and camel-hair ropes, hand-split lumber frame, sheep felt insulation, liner, poles and center ring are hand-painted with Mongolian designs.
Over 10 years old, as is, platform must be disassembled [screws], you must haul it away. You'll need a truck…
All these images are from when the yurt was new. The yurt is currently disassembled. It has been stored under a tarp in the cedar platform for 5 years.
This weekend (11/20-23) I'll be opening the tarp, inspecting for damage, and partially assembling the yurt to air it out and take some pictures. If we get more snow, I'll pack it back up.
If you're interested, give me a call, come and look at it RIGHT NOW.
Here's a video(by Martin Goldman) of the first time it was completely set up, in 2006 in the Mabel Dodge House parking lot.
Click on a thumbnail, then use your arrow keys…